Lewis And Clark

High School




Class Of 1964
Reunion Time!
Hello again, Classmates. The July 4th holiday weekend is over, and it is now one month to our 55-year reunion! If you haven't already done so, please send your check for Friday night to Kathy Allasina (address below) by July 20. We need a count for Friday's Manito Country Club event, and the Saturday hosts need to know how many to plan for. Your check will let us know you're coming for sure.
The Saturday events will combine some schools. So far we have:
Adams and Jefferson -- Gloria Nauditt host
Hutton and Roosevelt -- Mike and Pam Senske hosts
Franklin and Hamblen -- Lissa Larsen and Pat Ireland hosts
Libby -- Carolyn (Hickey) Miller host
Wilson, you don't have a host yet. Is there anyone who will coordinate the Saturday event for your school? There could be 15 to 20 coming from Wilson.
Other schools with no hosts are Grant, Irving, Lincoln, Lincoln Heights, Sheridan, Washington, and Whittier. The survey had a lot of "maybe" responses so we don't know how many will be attending from each of these schools. Perhaps someone will coordinate an event to include all of them? If so, let Judy (Zacher) Nessen (jnessen1@gmail.com) know your plan.
When Kathy has received all of the checks, we will be able to let hosts know the numbers. We're looking forward to a great reunion!
PAYMENT DUE BY JULY 20!
LC Class of '64 -- 55-Year Get Together
Hello, Classmates. Our 55-year get together is fast approaching:
Friday, August 9
Manito Country Club, 5303 S Hatch Rd
Buffet dinner: entrees of salmon and balsamic chicken
6 p.m. until …
No-host bar (cash only, no credit cards)
$50 per person
Make checks payable to Kathy Allasina (you knew her as Kathy Blankenship) and send to 4308 S. Terra Verde Drive, Veradale, WA 99037.
No program is planned, just visiting with friends
Saturday, August 10
Grade school parties
You will be contacted later with details
Also, if you could please donate a few extra dollars we can keep our class website going for another five years.
Any questions, contact Kathy (509-926-9384) or Judy Zacher Nessen (509-448-1808).
---
.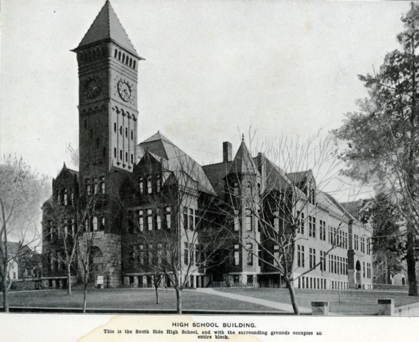 This is South Central High School, which opened in 1908. On June 21, 1910, the school burned to the ground; it was rebuilt and named Lewis and Clark. Massive towers were numerous in Spokane at the time -- the court house, railroad depot (the clock tower now in Riverfront Park), this one at Lewis and Clark, to name a few. The school's history is quite involved. You can read more at http://www.historylink.org/File/8723.
---
March 28, 2016
It's sad when we read on this website about a classmate who has passed away. Sue Tegler Petersen is attempting to keep the In Memory page updated. If anyone hears of one of our classmates, your friends, who have passed away, please let her know at bpeters2_91@msn.com.
==============
The LC 50-year reunion is over, but this website will live on! We hope you will continue to keep in touch with classmates via the website – as long as there is interest, we will keep renewing our contracts.
Be sure to check out the What's New section for classmate updates.
---
Lewis & Clark High School Class of 1964
Website Disclaimer Notice and Agreement
About Using This Website
By using this website you are accepting all the terms of this disclaimer notice. If you do not agree with anything in this notice you should not use this website.
Warranties and Liability
While every effort is made to ensure that the content of this website is accurate, the website is provided "as is" and the Lewis & Clark High School Class of 1964 (hereafter referred to as LC64), including Guest Members, make no representations or warranties in relation to the accuracy or completeness of the information found on it. While the content of this site is provided in good faith, we do not warrant that the information will be kept up to date, be true and not misleading, or that this site will always (or ever) be available for use.
We do not warrant that the servers that make this website available will be error, virus, or bug free, and you accept that it is your responsibility to make adequate provision for protection against such threats. We recommend scanning any files before downloading.
Nothing on this website should be taken to constitute professional advice or a formal recommendation and we exclude all representations and warranties relating to the content and use of this site.
In no event will LC64, including all Guest Members, be liable for any incidental, indirect, consequential, or special damages of any kind, or any damages whatsoever, including, without limitation, those resulting from loss of profit, loss of contracts, goodwill, data, information, income, anticipated savings, or business relationships, whether or not advised of the possibility of such damage, arising out of or in connection with the use of this website or any linked websites.
Nothing in this disclaimer notice excludes or limits any warranty implied by law for death, fraud, personal injury through negligence, or anything else that it would not be lawful for LC64, including all Guest Members, to exclude.
License to Use This Website
By using this website you agree to the exclusions and limitations of liability stated above and accept them as reasonable. Do not use this website if you do not agree that they are reasonable.
If any of the points in this disclaimer notice are found to be unenforceable under applicable law, they will have no bearing on the enforceability of the rest of the disclaimer notice.
Material on this website, including text and images, is protected by copyright law and is copyright to the respective owners unless credited otherwise. It cannot be copied, reproduced, republished, downloaded, posted, broadcast, or transmitted in any way except for your own personal, non-commercial use. More specifically, you agree that by using this website, you will not:
Defame, abuse, harass, stalk, threaten, or otherwise violate the legal rights of others.

Publish, post, upload, distribute, or disseminate any inappropriate, profane,

defamatory, infringing, obscene, indecent or unlawful topic, name, material or information.

Upload files that contain viruses, corrupted files, or any other similar software or programs that might damage the operation of another's computer.

Advertise or offer to sell or buy any goods or services for any business purpose, unless specifically approved by the site administrator(s).

Conduct or forward surveys, contests, pyramid schemes, or chain letters.

Download any file posted by another user of the LC64 website when you know that user, or should reasonably know, cannot legally distribute that file in such manner.

Restrict or inhibit any other user from using or enjoying the LC64 website.

Violate any code of conduct or other guidelines that might be applicable for any particular website or communication service.

Harvest or otherwise collect information about others, including email addresses, for any commercial purpose, without their specific consent.

Violate any applicable federal, state, or local laws or regulations.
Prior written consent of the copyright holder must be obtained for any other use of the material on the LC64 website. Copyright of all images on this site remains with the copyright owner at all times.
No part of this site can be distributed or copied for any commercial purpose or financial gain.
All intellectual property rights in relation to this website are reserved and owned by Class Creator and LC64.
Links to Other Websites and Information
Links to other websites are provided for the convenience of users. We are unable to provide any warranty regarding the accuracy or completeness of the content of such sites, or the reliability, quality, or effectiveness of any information provided through external websites. A link to an external site does not imply an endorsement of the views, information, or products provided or held by such websites.
Law and Jurisdiction
This disclaimer notice shall be interpreted and governed by the state of Washington, and any disputes in relation to it are subject to the jurisdiction of the courts in the state of Washington.
We reserve the right to revise and amend this disclaimer notice from time to time, and any revised version will be deemed to be applicable from the first date of publication on this website.
About Us
This is the website of the Lewis & Clark High School Class of 1964 including all Guest Members.
Site Administrator: jnessen1@gmail.com
This website is not affiliated with Lewis & Clark High School or their affiliates. The views on this website are solely to inform and educate. They are not the views of Lewis & Clark High School or the Lewis Clark High School Class of 1964 including all Guest Members.
The information herein is not that of the Class Creator system or their affiliates. Please take a moment to read the above disclaimer and site rules. By clicking on your profile and entering information, you agree to abide by all of the previous terms and conditions for use of this website.
By using this website you are accepting all the terms of the disclaimer notice.
This website is owned by Class Creator.